The full text of the stories has been delivered to our subscribers on the dates indicated.
Latest blog entries - May 15
---
* Royal Caribbean Going Back Down Under
May 16 - When the 2014-2015 summer season rolls around in Australia (winter in North America), Royal Caribbean won't be adding any additional capacity to the market for a change, but they will be returning with a revitalized ship to wow the market.
* No Fight in Alaska
May 16 - Earlier we've told you that the State of Alaska plans to make changes to the way they measure wastewater coming from cruise ships in order to make it more acceptable to cruise lines (and possible that they could comply). Most, however, expected environmentalists to launch another citizens' initiative to put a measure on the ballot asking voters to overturn the changed rules that the state puts in place.
Apparently, that's not going to happen.
* Other Things You'll Want to Know
May 16 - CND subscribers also read about not calling 'em CruiseTours ... and pictures back from the drugstore.
The complete text of these stories appeared in the CND editions referenced and was sent to subscribers.
* Sisters Don't Necessarily Look Alike
May 15 - Now that Regal Princess has been moved out of the dry dock at Fincantieri's Monfalcone yard, and Royal Princess has again vacated it, Fincantieri can move on to begin the yard's next project - a third sister in the line for P&O Cruises. But just because she's a sister, it doesn't mean she's going to be a twin, or have much more than a family resemblance to the Princess ships.
Fincantieri laid the keel for the yet-unnamed 141,000- ton P&O ship today in the drydock at Monfalcone, but to the yard it already has a name. It's simply newbuild 6231. More
* Other Things You'll Want to Know
May 15 - CND subscribers also read about so much tweeting it sounded like the aviary at the zoo ... star power ... and don't try this at home.
* Princess Sets 2014-2015 Americas Program
May 14 - Princess set their Americas programs for the 2014-2015 winter season. That's everything sailing from North American ports - Caribbean, Panama Canal, Hawaii, Mexico, and New England/Canada.
At that time Princess will have two more ships than they have now, and additional ships in Asia/Australia. Their deployment, of course, shows you where the money is, and isn't.
* They're Doing It Again
May 14 - The Bermuda season has barely begun, but that means it's open season on extracting big fines from cruise ship passengers who visit the island.
Customs officers made two unrelated arrests on Sunday aboard Norwegian Dawn when searches of their staterooms turned up small amounts of marijuana. More
* Shuffling the Deck in the War over New York
May 13 - Carnival Cruise Line today played another card from its hand in the high-stakes game for a big share of the New York cruise market.
The line without the newest, flashiest ship will try to counter its competitors with diversity of itineraries. Beginning in mid-2014, Carnival will offer ten different itineraries from New York.
* Is That a Banana in Your Itinerary .... ?
May 13 - The new Honduran cruise port project, Banana Coast, has signed their first cruise line slated to make multiple calls. Holland America Ryndam will make 11 calls there beginning November 19, 2014.
* Here Comes Quantum
May 13 - The first block of Quantum of the Seas has arrived at Meyer Werft and is awaiting the ship's keel laying. More
* No Fun in Europe
May 10 - Carnival Cruise Line said today they are withdrawing from the European market, at least temporarily, and will not have a ship in Europe in 2014. They apparently had been planning to send Carnival Legend there again for the summer season, but like other brands which source heavily from North America, they are finding demand flagging in view of very high air fares.
* Australian Police Release Video Information
May 10 - The search for the couple who went overboard from Carnival Spirit Wednesday night has been called off. Police said that it will be resumed if there are any sightings. The search was suspended when it was no longer believed it could be survivable to be in the water that long, given the water temperature and weather.
* Other Things You'll Want to Know
May 10 - CND subscribers also read about how with each booking you get eggroll ... and Medevac from Carnival Splendor.
* When Carnival Adds Capacity in Australia, It's North America's Loss
May 9 - Carnival Australia said today they would be adding a second ship to the fleet based Down Under, at least seasonally, due to the overwhelming response to Carnival Spirit which began year round operations from Sydney last October.
Carnival Legend will sail 8- to 12-night cruises from Sydney beginning September 24, 2014.
* Couple Overboard from Carnival Spirit
May 9 - A young couple was reported missing from Carnival Spirit when it docked in Sydney this morning at the end of a 10- night cruise.
* Other Things You'll Want to Know
May 9 - CND subscribers also read about Norwegian going legally blonde ... and sharing the wealth.
* The War over New York
May 8 - This afternoon, the Rockettes danced their way through christening Norwegian Cruise Line's newest ship, Norwegian Breakaway, in a splashy ceremony in the ship's theater. And where did it happen, you might ask? In the ship's year round home port of New York.
* Carnival Triumph on the Move
May 8 - Carnival Triumph left Mobile this afternoon headed for a shipyard in the Bahamas where repairs will be completed and new features will be added to the ship before it goes back into service next month.
The ship sailed under its own power and is expected to reach the Grand Bahama Shipyard in Freeport on Saturday. Carnival previously said the ship would have to move to another facility to take it out of the water to complete the work being done. BAE in Mobile did not have drydock facilities large enough to accommodate Carnival Triumph's size.
* The Galapagos, Quickly
May 7 - Would you go to the Galapagos Islands for just three or four days? Silversea is betting you would - if they combined it with a land package in South America to create an eight, ten or eleven-day vacation.
* Other Things You'll Want to Know
May 7 - CND subscribers also read about slipping into town ... in the middle of the Atlantic Ocean ... hiring a crew ... and right on your doorstep.
* Why Alaskans Are Concerned about Cruise Ship Fuel
May 6 - We are entering the first full Alaska season when cruise ships are required to burn a low-sulphur fuel when sailing within 200 miles of the US or Canadian coasts. This is mandated by international treaty, and cargo ships must do the same. This low-sulphur fuel is considerably more expensive than what ships normally use. This will affect Alaska more than anywhere else in the US because such a large portion of their cruise itineraries brings ships within 200 miles of their coast, and a high percentage of their consumer goods are shipped to the state by sea.
This will have a significant impact on cruise lines' and cargo carriers' operating costs, but it won't be in the way so much of the consumer press is reporting it. The way it will work is what has Alaskan tourism officials terrified, however.
* 54 Below on Celebrity Summit
May 3 - Remember Studio 54, the disco era nightclub that was the hottest ticket in New York? The dance club is gone, but literally beneath it in a cellar sits a cabaret called 54 Below whose stage attracts Broadway's brightest stars.
And now Celebrity Summit will be attracting those same stars through an exclusive arrangement with 54 Below.
* Other Things You'll Want to Know
May 3 - CND subscribers also read about Oosterdam receiving an air drop (more) ... I gotta make a quick stop ... Mrs C goes to sea (more) ... and a wild ride (more).
The complete text of these stories appeared in the CND editions referenced and was sent to subscribers.
---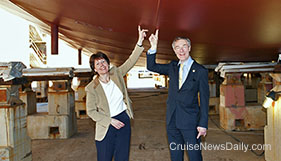 May 15 - Carol Marlow and David Dingle under the first section of P&O's newest ship. More/Larger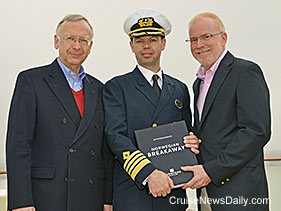 Apr 25 - Norwegian Breakaway was handed over to Norwegian Cruise Line today by Meyer Werft, giving us our first opportunity to see the interior. More
Mar 28 - Regal Princess sits ready for her float out at the Fincantieri yard in Monfalcone. More/Larger
Mar 15 - Queen Elizabeth met Queen Mary in Long Beach Harbor on Tuesday evening. More/Larger
Mar 13 - Norwegian Breakaway leaves Meyer Werft. More/Larger
Mar 11 - The Wellness Oasis aboard AIDAstella delivered today in Emden. More/Larger
Feb 26 - Norwegian Breakaway with its Peter Max hull art made its debut at Meyer's Papenburg yard this morning. More
Dec 11 - Construction began on Costa Diadema when the first block was lowered into place at Fincantieri's Marghera yard. More/Larger
Dec 3 - Norwegian Cruise Line unveiled the hull art for Norwegian Getaway which will debut in early 2014. Larger
---
We'd also appreciate your signing our Guest Book and hearing your comments.
---
Recent features:
News File Index - past photos and articles available online.
Guide to New Ships Lots of new ships will be sailing over the horizon in the next couple of years. This is the place to sort them all out and keep them straight. Here we list in a table how big, how many, who's got them, when they're coming.
Cruise Weather Page Here, you'll find links to some major weather sites that will help you find the current weather forecasts at ports you plan to visit and to sites that track major tropical storms.
Links to Cruise-Related Sites Here we gathered all the links to the major cruise lines' official home pages (and some selected smaller ones, too) along with links to the official pages of tourist boards at ports of call. Also included are other cruise-related sites that you will find useful.
Welcome to Cruise News Daily. The news published here is for the consumer who loves to cruise and wants to keep abreast of what's new about cruising.
We update each weekday, so please check back here often.
CND isn't a listing of the latest discount rates, rather it will be your guide to what's new in the cruise industry: new itineraries, new ships, new features and promotions along with some perspectives on what current trends may mean to you, the cruiser. Our coverage is focused on major ocean-going lines marketed in North America.
Our entire site is graphics-free (except for photos in our newsfiles) and designed to download to you quickly (Who wants to wait while a giant graphic of a ship appears each time you go to a site?), so you won't find complex graphics here -- just information about the cruise industry, much of which isn't readily available to those outside the travel industry. Besides the latest news, our site has evolved to include lots of other useful information about the cruise industry.
Copyright 2013 by Cruise News Daily. All rights reserved. Copying is expressly prohibited.