The full text of the stories has been delivered to our subscribers on the dates indicated.
Latest blog entries - June 6
---
While we are aboard ship, this cannot be updated. Please check our blog the latest headlines, and CND at Sea for updates regarding the inaugural activities aboard Royal Princess in Southampton.
* Bermuda Pier Work Now Won't Be Completed until December
In a story that was unfolding last week, it's becoming obvious that the government of Bermuda has been promising what they cannot deliver in the way of a completed pier at which Norwegian Breakaway can dock during the island's summer cruise season.
It seems to be part of the attitude we are detecting from the island that despite the lip service about delivering an upscale product to visitors, as long as visitors continue to come, the government really doesn't care what the visitors experience. That attitude now seems to be extending toward the cruise lines which call there.
* Other Things You'll Want to Know
June 10 - CND subscribers also read about crossing the Atlantic ... and Norwegian CEO staying around.
The complete text of these stories appeared in the CND editions referenced and was sent to subscribers.
* Ready to Begin - Cue the Music
June 7 - Royal Princess made her triumphant arrival into Southampton this morning in much less than perfect weather, but once she arrived, she proved herself to be worthy of the name Royal Princess. More
* Poll Shows Cruise Lines Have an Image Problem
June 7 - Harris Interactive last month polled 2,052 adult Americans about their feelings regarding their feelings about going on a cruise and found, not surprisingly, that the cruise industry now has an image problem. In general, people apparently have concerns about safety and reliability. CND sees a little more to it, however.
* Belize Rejects NCL Proposal
June 6 - Several weeks ago we told you about Norwegian Cruise Line seeking approval to build a private island experience in Belize on a small island, called Crawl Caye, off the Placencia Peninsula in the southern part of the country.
The government has rejected the proposal based on the environmental impact large cruise ships would have on that area and potential damage that could be done to the barrier reef.
* Other Things You'll Want to Know
June 6 - CND subscribers also read about something missing from the Tonys ... Duck! ... and Steiner extends with RCI.
* Premium Onboard Experiences Evolving
June 5 - When alternative dining experiences in premium restaurants first began to appear on cruise ships, it didn't take too long for some people to say it was a way that cruise lines were just trying to maneuver people into paying for meals. As time has gone on, that line of thought has dissipated and the premium dining and imbibing experiences have become accepted, and many people enjoy them several times during their cruise.
For many though, it has become so accepted that these experiences are something that they simply must check off their list of doing everything there is to do on their cruise. As they have become a major profit source for cruise lines, some of the restaurants have become too expensive to just to check off a list.
We've begun to notice the start of a trend, however, that may be responding to that. More
* Other Things You'll Want to Know
June 5 - CND subscribers also read about a first timer ... and they're on the way.
* Cunard and P&O Top Management Reorganized
June 4 - Cunard announced some sweeping management restructuring at Cunard and P&O Cruises this morning that will have Peter Shanks and Carol Marlow departing Carnival UK at the end of September.
Gerard Tempest, chief commercial offer, will now head up both brands. He will continue to be a member of the Carnival UK executive team lead by CEO David Dingle. More
* Celebrity Cancels Second Galapagos Cruise
June 4 - Celebrity Cruises has had to cancel the June 9 sailing of Celebrity Xpedition to the Galapagos due to the temporary suspension of their license to enter the National Park.
* Other Things You'll Want to Know
June 4 - CND subscribers also read about the Canadian porn season ... and a different type of medevac.
* Celebrity Xpedition Temporarily Prohibited from Galapagos
June 3 - Celebrity Cruises canceled this week's cruise aboard Celebrity Xpedition to the Galapagos Islands when their license to enter Galapagos National Park was suspended. The length of the suspension is still unknown, but Celebrity is still hoping to resume operation with the June 9 sailing.
Was it some safety regulation the ship was in violation of? Or was it not meeting some rigorous environmental standard? Nope. They had about 25 pounds of frozen lobster to serve to passengers, and that's what's disrupting hundreds of passengers' trips to the Galapagos.
* Other Things You'll Want to Know
June 3 - CND subscribers also read about Princess@Sea ... Mariner arrives in Asia ... Shanghai keesp growing ... and medevac from Zaandam.
* More Trouble for Carnival's Reputation
May 31 - According to would-be passengers posting on Cruise Critic's message boards, Carnival is canceling their bookings on Carnival Sunshine. The cancellations have been on sailings since the refit ship left the yard in Italy, and seem to be ongoing. The sailings themselves aren't being canceled, but individual passengers are being bumped from the cruises. The staterooms are being used for contractors who are aboard still finishing work from the conversion of the ship from Carnival Destiny when many new features were added to the ship.
* Other Things You'll Want to Know
May 31 - CND subscribers also read about Piraeus' new terminal ... end may be nearing for the SS United States ... and a second pier for St. Kitts.
* Fincantieri Delivers Royal Princess
May 30 - The Princess Cruises fleet is one ship bigger tonight. Fincantieri delivered the 141,000-ton Royal Princess to Carnival Corp today at their Monfalcone yard. More
* Royal Caribbean Orders Third Quantum-Class Ship
May 30 - Royal Caribbean Cruises Ltd ordered a third Quantum-class ship from Meyer Werft for their Royal Caribbean International brand today. More
* Crossing Paths in Time
May 30 - This Saturday marks a special anniversary in New York Harbor. June 1 is the seventy-seventh anniversary of the original Queen Mary's arrival there at the completion of her first transatlantic crossing.
Coincidentally (or maybe not so coincidentally), her successor and Cunard's current flagship, Queen Mary 2, will arrive in New York this Saturday, 77 years to the day after Queen Mary arrived for the first time on June 1, 1936.
* Royal Caribbean Cancels Five More Sailings
May 29 - Grandeur of the Seas moved across the Freeport harbor this afternoon to the Grand Bahama Shipyard, and at about the same time, Royal Caribbean was releasing a bushel of bad news. More
* Other Things You'll Want to Know
May 29 - CND subscribers also read about Costa celebrating Italian Republic Day ... and another special day in Italy.
The complete text of these stories appeared in the CND editions referenced and was sent to subscribers.
---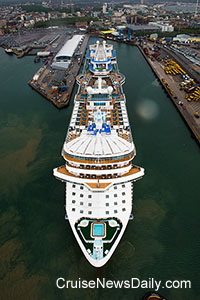 June 7 - Royal Princess makes maiden arrival at Southampton. More/Larger
May 18 - Royal Princess has completed sea trials and has returned to the yard where final preparations are being made for its handover. More/Larger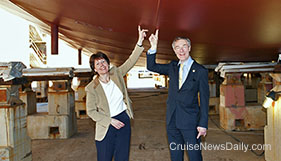 May 15 - Carol Marlow and David Dingle under the first section of P&O's newest ship. More/Larger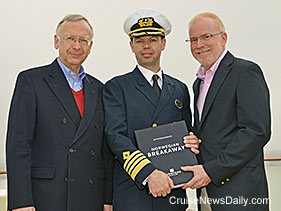 Apr 25 - Norwegian Breakaway was handed over to Norwegian Cruise Line today by Meyer Werft, giving us our first opportunity to see the interior. More
Mar 28 - Regal Princess sits ready for her float out at the Fincantieri yard in Monfalcone. More/Larger
Mar 15 - Queen Elizabeth met Queen Mary in Long Beach Harbor on Tuesday evening. More/Larger
Mar 13 - Norwegian Breakaway leaves Meyer Werft. More/Larger
Mar 11 - The Wellness Oasis aboard AIDAstella delivered today in Emden. More/Larger
Feb 26 - Norwegian Breakaway with its Peter Max hull art made its debut at Meyer's Papenburg yard this morning. More
---
We'd also appreciate your signing our Guest Book and hearing your comments.
---
Recent features:
News File Index - past photos and articles available online.
Guide to New Ships Lots of new ships will be sailing over the horizon in the next couple of years. This is the place to sort them all out and keep them straight. Here we list in a table how big, how many, who's got them, when they're coming.
Cruise Weather Page Here, you'll find links to some major weather sites that will help you find the current weather forecasts at ports you plan to visit and to sites that track major tropical storms.
Links to Cruise-Related Sites Here we gathered all the links to the major cruise lines' official home pages (and some selected smaller ones, too) along with links to the official pages of tourist boards at ports of call. Also included are other cruise-related sites that you will find useful.
Welcome to Cruise News Daily. The news published here is for the consumer who loves to cruise and wants to keep abreast of what's new about cruising.
We update each weekday, so please check back here often.
CND isn't a listing of the latest discount rates, rather it will be your guide to what's new in the cruise industry: new itineraries, new ships, new features and promotions along with some perspectives on what current trends may mean to you, the cruiser. Our coverage is focused on major ocean-going lines marketed in North America.
Our entire site is graphics-free (except for photos in our newsfiles) and designed to download to you quickly (Who wants to wait while a giant graphic of a ship appears each time you go to a site?), so you won't find complex graphics here -- just information about the cruise industry, much of which isn't readily available to those outside the travel industry. Besides the latest news, our site has evolved to include lots of other useful information about the cruise industry.
Copyright 2013 by Cruise News Daily. All rights reserved. Copying is expressly prohibited.